As you know, BCC is closed today, however,

WE WILL BE HAVING REHEARSALS AT YMTC:

5:00-7:00PM WONKA

7:00-10:00PM ADDAMS FAMILY

I NEED ALL HANDS ON DECK. IF YOU ARE WORKING TECH CREW(BACKSTAGE), I NEED YOU AT REHEARSALS TO GO OVER NOTES PRIOR TO ARRIVING AT BCC TOMORROW!!!!

Also, if you haven't brought in concession items, PLEASE BRING THEM TO REHEARSALS TONIGHT!!!

Also, if you want to purchase a DVD, remember to place those orders by Saturday, January 31st.

ALSO NOTE:

REHEARSALS AT B.C.C. FOR THURSDAY, JANUARY 29TH WILL BE 4:00-7:00 FOR WONKA & 7:00-10:00 FOR ADDAMS!!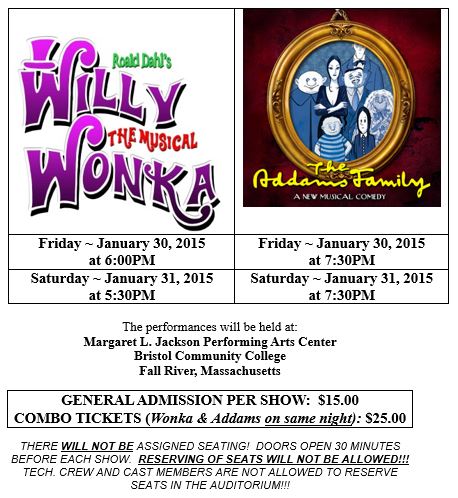 CALL THE BOX OFFICE AT 508-674-9703 OR ORDER ONLINE BELOW...
FRIDAY ~ JANUARY 30, 2015
ADDAMS FAMILY MUSICAL at 7:30PM
COMBO TICKET (BOTH SHOWS) at 6:00PM & 7:30PM
SATURDAY ~ JANUARY 31, 2015
ADDAMS FAMILY MUSICAL at 7:30PM
COMBO TICKET (BOTH SHOWS) at 5:30PM & 7:30PM



YMTC now accepts CREDIT CARDS!!! VISA, MASTERCARD, DISCOVER & AMERICAN EXPRESS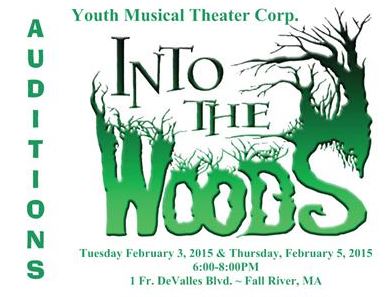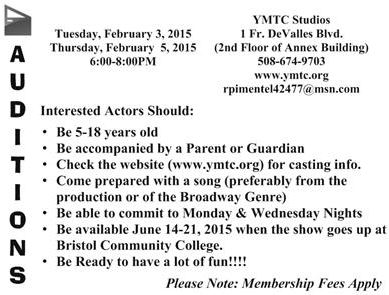 Watch the great things YMTC is doing...

Mission Statement
Youth Musical Theatre Corporation is a non-profit organization that caters to the youth of our community. In addition to promoting social and cultural integrity, we want to provide young people with the opportunity to engage in high quality theatrical experiences, while building up their self-esteem and confidence. We want to encourage family support and participation in theatre while instilling standards of performance excellence among the youth. Furthermore, we promote theatre arts awareness, while making theatrical performances affordable for the entire family.
Rick Pimentel
President & Director (YMTC & Rising Momentum)
Kim Macomber
Vice President & Cotume Designer
Mary Frieburger
Secretary & Tech. Crew Coordinator
Alison Pimentel
Treasurer & Box Office Manager
Paula Cram
Assistant Secretary
Deb Morrissette
Props Mistress
Sonya Bradford
Rich Cordeiro
Set Coordinator
Michelle Dumais
Tech. Coordinator
Kristin Hockwater
Addams Family & Wonka Choreographer
Ed Viveiros
Addams Family & Wonka Vocal Coach and Musical Director
Jeff Villarrubia
Stage Manager and Rising Momentum Assistant Vocal Coach
Kim Forbes
Volunteer Coordinator
Nicole Morrissette
Rising Momentum Choreographer
Annie Legace
Vocal Instructor and Rising Momentum Vocal Coach
Jennifer McCaughey
Rising Momentum Assistant Choreographer

CORPORATE SPONSORS
CLOVER LEAF MILLS
GROUP ONE MANAGEMENT